The 1.0.3 release of MasterPress is now available for download. Full release notes are available in the changelog.
This release includes important compatibility changes for the visual editor field type to allow it to work correctly with the latest 3.9 version of WordPress, which upgrades the TinyMCE editor to version 4.
A note on upgrading from the dashboard: there is a known issue where the release notes for this version are not loading correctly when clicking the "View 1.0.3 version details" link in the plugins area of the dashboard.This will not affect the upgrade process itself, but you will receive a server configuration error when you try to view the release notes. The next release of MasterPress will include a fix for this, but viewing version details during the next upgrade may still be an issue until you've installed that next version.
Better Dashboard Integration
We've made numerous visual enhancements to the user interface in this version to bring it more into line with the major dashboard overhaul in WordPress 3.8.
First up, the create and edit new post type screens now better reflect the appearance of the new dashboard in their mockup representations of dashboard elements: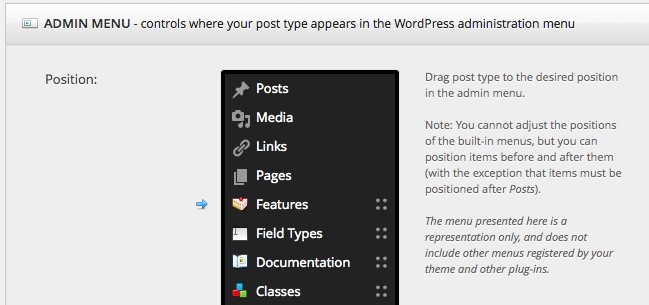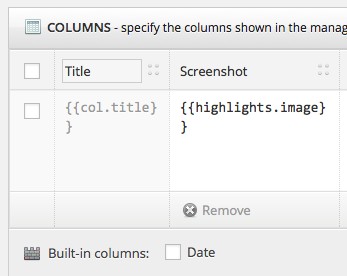 We've also changed the styling of messages and hierarchy display (for example, the parent post type when editing post type field sets) to match the style now being used in the dashboard: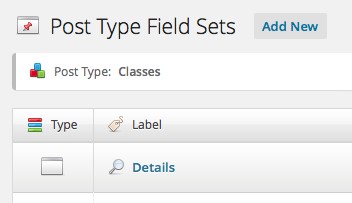 And finally, the icons used by post types and taxonomies are now displayed once again in post listing and editing screens, as was the case for the original version of MasterPress: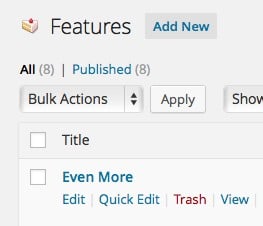 Strict Standards warnings
This release includes numerous bug fixes, and one major fix is to address a lot of warnings which were being displayed when PHP was running in strict standards mode, which is a default when running PHP 5.4+. This fix required significant reworking of certain code both behind the dashboard user interface and the MasterPress API, but hopefully these warnings are now all gone.
Thanks for reading, and as always, let us know if you find any issues with this release!