Returns a list of links to display in a taxonomy terms column for a posts manage screen in WordPress. Each link will link to a list of posts that are attached to the term. 
This is accessible through a the "col.terms" property in the expression, as shown below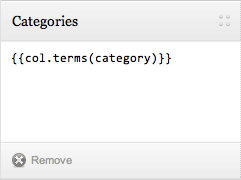 Parameters:
$taxonomy

The taxonomy name to list the terms for.